Planners block McDonald's outlet opposite Stirling school
August 3 2012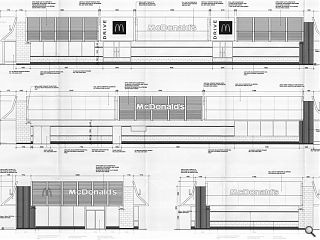 Planners at Stirling Council have thrown out a bid by McDonald's to erect a restaurant and drive thru at Springkerse roundabout – on the grounds that it was situated just 300 yards from St Modan's High School.
Designed by AEW Architects, who have had some 3,000 commissions from the fast food chain, the planned outlet would have occupied a brownfield site close to the town centre but was rejected on the grounds that it went against the Scottish Government's plans to tackle childhood obesity.
In a letter of objection penned to Stirling Council Pat McKeown, chair of St Modan's parent council, wrote: "This site is immediately opposite the front of St Modan's High School and it is the view of the parent council that this development will have a significant negative impact on the health, safety and wellbeing of our young people."
McKeown went on to observe that the restaurant was likely to 'tempt' pupils away from the school canteen, which has pioneered healthy eating plans, and contribute to an increase in traffic and litter with a corresponding impact on safety.
A McDonald's spokesperson stated that they were 'disappointed' at the decision.
Back to August 2012