Royal Botanic Gardens Alpine House starts on site
August 2 2012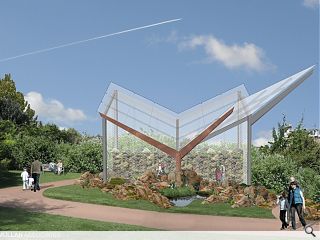 Works to erect a new Alpine House at Edinburgh's Royal Botanic Gardens have now commenced on site – the first new glasshouse in the gardens for over thirty years.
Designed by Smith Scott Mullan Associates the project will house a display of alpine plants set amongst a tufa rockscape and extending outward to connect with the surrounding landscape.
Adopting the form of three rhomboid shaped roofs the design has been conceived to provide the ideal conditions for plant health and a variety of environments – as well as for its aesthetics.
Reaching a height of 7m the structure encloses an area of 82sq/m with walls of glass, Tufa and stainless steel wire rope.
Back to August 2012