City Design Co-operative named best landscape architects
July 13 2012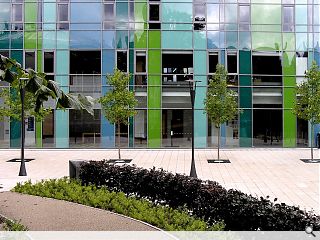 This month City Design Co-operative were named '
best landscape architects
' by Urban Realm magazine for a range of work including public realm work at the Fraser Building at Glasgow University and James Watt Dock, Greenock, as well as the remodelling of an East Pollockshields quad.
In the aftermath of that win Kirstin Taylor, director, City Design Co-operative Ltd, gave her views on the state of the profession:
UR: Do you think the standard of work showcased by the profession is high?
TAYLOR: The profession is continuing to gain increasing respect and political importance as the role of Landscape Architects becomes ever more critical in terms of the sustainable planning of our cities and natural resources. We believe the profession will continue to expand its influence and expertise and gain recognition for its role in creating and improving the environment.
There are some great examples of design and place-making within our communities – you just have to look around you at the parks, streetscapes, residential developments, schools, campuses, commercial centres, gardens and waterfront developments. Each of these examples of planning, design and management are the work of Landscape Architects, along with planning and conservation projects for national, regional and local historic sites and areas.
No other profession brings together environmental analysis, spatial planning, management and design. This unique mix enables Landscape Architects to offer universal
design solutions which are environmentally-led, sustainable, and responsive to both human and environmental needs.
By responding with sensitivity and creativity, our profession has the ability to enhance the quality of human life. The value of this is being increasingly credited through recognition of the importance of design and management of the space around us and through increased showcasing of innovative landscape design solutions throughout the profession.

UR: Are awards and accolades such as this important for raising morale?
TAYLOR: Of course, it's always nice to receive recognition! I think in general, with particularly challenging times in the construction industry, receiving individual recognition through awards is a definite boost to team morale!
We find one of the highest rewards in our profession is achieved through working with communities – we often engage with local people in the process of design, working together with community groups to realise a sense of pride and foster ownership for the places we create. There is tremendous satisfaction in seeing a scheme come to life and the people you have worked to create it for gain enjoyment from it - but receiving professional recognition within the industry is equally rewarding and we are extremely grateful for the accolade!
UR: What have you learned from the competition process?
TAYLOR: The competition has given us heightened confidence and respect - both in ourselves and for our contemporaries also showcased by Urban Realm. It is nice to see the work of some of the best Landscape Architecture practices pulled together in this way and it's been a fantastic honour for City Design to be voted No.1!
As a long running practice, awards such as this give us the confidence and recognition that, having originally established over 27years ago, City Design Co-operative continues to innovate, adapt and create award-winning design year after year.
Competition is a critical driver for performance and innovation. Due to our collaborative working practice, we have avoided developing a specific "house style" and value ourselves on working collectively with communities, artists and other professionals to ensure our inventiveness on every scheme.
Particularly in the increasingly competitive market, we believe delivery of unique, innovative and distinctive high quality design, alongside our particular specialism in funding research and community engagement, sets us apart in the industry. We see ourselves very much as "work in progress" and hope to continue to innovate and evolve for many more years to come!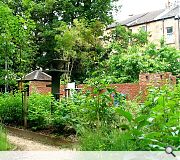 An overgrown wasteland in East Pollockshields has been transformed into a verdant garden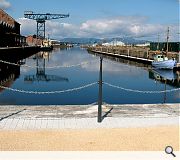 Greenock's dockside has been renovated to create a major new public space
Back to July 2012