American underclass documented in 'Days of Destruction, Days of Revolt'
July 13 2012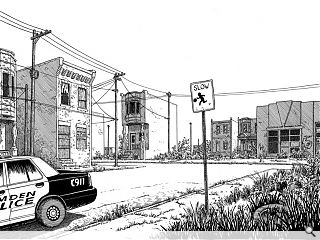 Days of Destruction, Days of Revolt
, a graphic account of America's underclass produced by Pullitzer Prize-winning journalist Chris Hedges and cartoonist Joe Sacco has caused a stir with its controversial call for rebellion peppered with striking imagery.
The book follows both Hedges and Sacco, proponents of the Occupy movement, on a cross country trek across a forgotten America, starting with Camden New Jersey which has an unemployment rate of as much as 40% and is, per capita, the poorest city in the US.
Visiting one of the hundreds of open air drugs markets in the city the pair chart how the former industrial giant, once home to 36,000 shipyard workers during WW!! and industries such as Campbell's Soup, has descended into a lawless 'penal colony'.
Warning that a similar fate awaits 'huge pockets' of the US if a permanent underclass is allowed to develop, the pair move on to similarly down at heel hoods, from the coal fields of West Virginia and an Indian reservation in South Dakota to Florida farmland.
Striking a pessimistic tone both Hedges and Sacco warn of a 'bleak' near future with cities and states falling into bankruptcy, neo-feudalism and the 'decimation' of both working and middle classes unless urgent action is taken.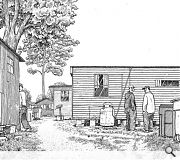 Black & white drawings encpsulate the bleakness of many forgotten spaces
The current dire economic situation is exacerbating many problems with Camden looking to lay off nearly half its police force
Back to July 2012