Riverside Inverclyde seeks sculptor for Port Glasgow commission
July 12 2012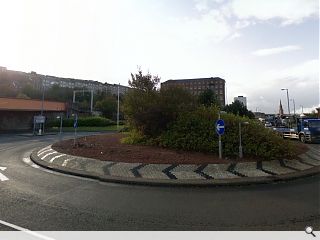 Regeneration body Riverside Inverclyde have teamed up with Inverclyde Council to invite interest from sculptors for the
creation of a feature artwork
for the town.
Valued at between £50 and £100k the scheme will encompass complementary feature lighting, signage and landscaping on a site at the western entrance to Port Glasgow, an effort to distinguish it from contiguous sprawl with Greenock.
Described as 'unprepossessing' the existing entrance consists of a 'bland' roundabout and 'plain' grass verges, leading to fears that motorists unfamiliar with the local geography have been blithely driving straight through.
The design brief calls for a solution which is both 'representative of the town's proud history' and 'presents Port Glasgow in a positive, forward looking light.'
Anyone interested in obtaining additional information about the brief, or to register interest in the pre-qualification process, is invited to contact Geoff Gregory at geoff.gregory@riversideinverclyde.com, 01475 755080 or 07836 587188.
Back to July 2012