Craig Amy wins planning for Edinburgh home
July 9 2012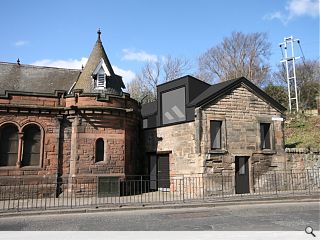 Planning permission has been granted for the conversion of a derelict stone building, just 200 yards from the Scottish Parliament, into a one bedroom home.
Located on the road from Holyrood Palace, Edinburgh, just a stones throw from Scotland's political heart the property is currently on the Buildings at Risk Register and lies on the eastern boundary of the New Town conservation area.
Built into a railway embankment the structure is believed to originate from the early 19th century when it formed part of the former Abbeyhill Foundry.
With a footprint of 28sq/m the property will provide a bedroom, bathroom and small utility space on the ground floor with a stairwell leading to a kitchen and breakfast bar above. From there the spiral stair leads up to the main living area before ultimately culminating in a study space.
To accommodate this vertical requirement the roof will be raised by 600mm and a large dormer window will be installed with views out toward the Parliament and Arthur's Seat beyond.
The home could be on site as early as September.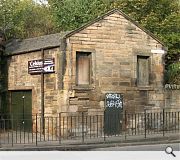 The existing structure is unlisted
Back to July 2012