Prince's Foundation & University of Strathclyde to offer joint degree programme
June 12 2012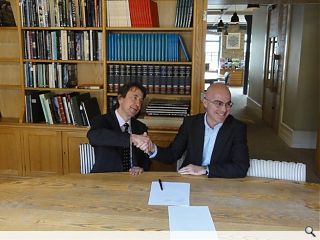 The Prince's Foundation and the University of Strathclyde have announced that they are to collaborate on education and research in architecture and urban design from September, following a signing ceremony.
The agreement is the latest academic partnership to be signed by the Foundation as it moves to address what it sees as a global skills shortage in urban design and green architecture, a gap it aims to plug through development of its graduate education programme.
It will see Strathclyde provide new course options for 4th year students and a partnered studio unit for 5th year students. Prince's Foundation staff will also become key contributors to the Strathclyde Department of Architecture's guest lecture series.
Ultimately a joint degree programme will be offered at graduate level in 2014 with a focus on sustainable community building.
Professor of Urban Design and Head of Department at Strathclyde University, Dr. Sergio Porta, said the agreement would bolster the schools sustainable design, community engagement and live projects, adding that the department had "…identified these areas as crucial for our educational model and for shaping a next generation of architects who are useful for our communities and for society."
Chief Executive of The Prince's Foundation, Hank Dittmar said: "We are really pleased to be entering into this new working relationship with the Strathclyde School of Architecture, as their solid work in Scottish urbanism and typology align well with our own focus and will become an exciting new addition to our Building Skill portfolio.
"A collaboration with Strathclyde University also reflects The Prince's Foundation's growing emphasis in Southwest Scotland, where we are working with Dumfries House and East Ayrshire Council on heritage led regeneration and skills training."
Back to June 2012