Work to start on Dundee College of Life Sciences
June 11 2012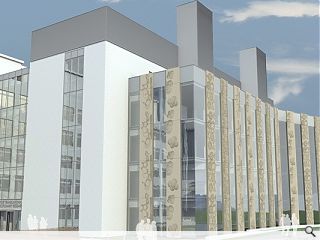 The University of Dundee has confirmed that work to construct a new life sciences building will commence by the end of the month following the award of a £12.5m construction contract.
Designed by BMJ Architects the centre will comprise four storeys of laboratory accommodation and office space and will include an enclosed street connecting to the existing Welcome Trust Building.
This space will double as a meeting and collaboration area and will host exhibitions and digital media installations to promote collaboration between arts and science.
Externally a series of anodised aluminium cladding panels represent the four key strands of life science research; molecular, organellar, cellular and tissue, via perforated images.
Prof. Ferguson said, 'It's great to have acknowledgement from BREEAM that the new building meets the international standard of excellence in terms of environmental design and sustainability. I'm delighted that our fundraising efforts over the past two years have finally come to fruition and that we will soon be starting work on the new building, which will provide research benefits for years to come."
Construction work is scheduled to complete by 2013.
Back to June 2012