Red Road tower block razed in five seconds
|
Send to friend
June 11 2012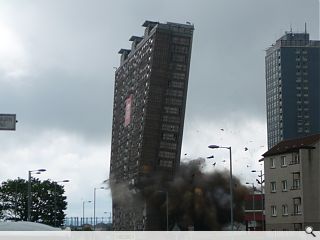 Petershill Drive, a 28 storey tower block in north Glasgow, has been razed as part of a Glasgow Housing Association regeneration plan.
Alex McGuire, from Glasgow Housing Association, said: "The Red Road flats were popular in their day and are known around the world, but their time has come to an end.
"We're pleased the demolition of the first of the Red Road blocks went according to plan."
William Sinclair, from demolition contractors Safedem, said: "The Red Road flats have presented a unique series of challenges ranging from the size of the buildings to the steel frame structure."
Seven towers remain on the estate, all of which will be demolished by 2017.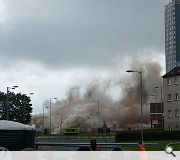 Remaining residents were rehoused locally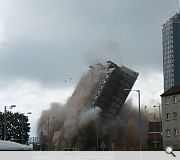 This is the 17th demolition contract carried out by Safedem for GHA
Back to June 2012