Simpson & Brown dust off Perth City Hall plans
May 11 2012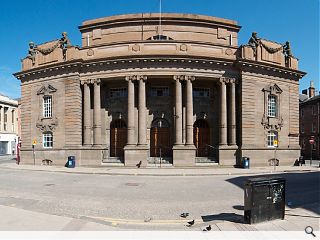 Simpson & Brown Architects have welcomed a decision by Historic Scotland to block moves to
raze the B listed Perth City Hall
– and dusted off their own proposals to secure the long term future of the Hall by transforming it into an indoor market.
This would attempt to safeguard the historic fabric of the 1911 building whilst introducing significant alterations and modern interventions, including a new entrance on the east side to create a 'promenade' through to the adjacent St John's Kirk.
It envisages transformation of the central hall into a triple level emporium lined by retail and display galleries arranged around a central atrium space. Contemporary bars and restaurants would also be inserted into the roofscape to provide new perspectives on the surrounding cityscape.
James Simpson of Simpson & Brown Architects said: "It is good news that consent for the demolition of Perth City Hall has been refused.
"When the proposed demolition was first publicised a group of individuals established the Perth City Market Trust, believing that the City Hall could be converted into a modern market hall and that such a market in the centre of Perth would do more for the economic regeneration of the city than the creation of an open square.
"They believe, moreover, that a market project could be independently funded, without the need for major public expenditure. Retention and re-use of the building would also avoid the disruption which demolition and the carting of rubble through the surrounding narrow streets would cause: the square project had the potential to become the Perth equivalent of the Edinburgh tram!
"Demolition would also be likely to have major archaeological consequences, the cost and time implications of which may not have been adequately considered."
Backed by Perth City Market Trust; whose trustees include Vivian Linacre, a resident of central Perth with long experience of town centre and retail development, Chris Cook, an authority on voluntary sector finance, Denis Munro, former Director of Planning and James Cormie, former Chief Executive of the Perth & Kinross Council, the practice now intends to lodge applications for Planning and Listed Building Consent "at as early a date as possible".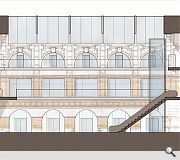 A rectangle of glass would be inserted into the roof to draw light to the interior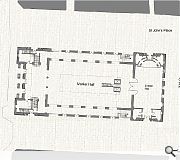 Work on the project could be completed in as few as 18 months if approvals are granted
Back to May 2012