BMJ complete twin University of Warwick projects
May 11 2012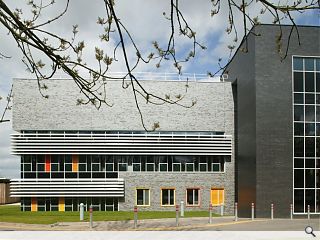 BMJ Architects are celebrating completion of the Materials and Analytical Sciences Building (MASB) and Centre for Mechanochemical Cell Biology (CMCB), both of which have been completed for the University of Warwick.
Acting as bookends to the campus the £24m MASB is designed to encourage interaction between physicists and chemists by putting its 'science on show' in an open plan rectilinear block comprising laboratory and office space.
This is woven into its 1960s surroundings by way of an inhabited bridge that connects to an existing elevated walkway system.
A single storey curving 'serpentine wall' houses an electron microscopy suite which was required to be detached from the main build in order to minimise vibrations. It provides an exceptionally stable environment and strictly controlled temperature, with each microscope mounted on independent foundations.
The £4.2m CMCB meanwhile provides open plan research laboratories for the Warwick Business School and incorporates high performance glass, orange and yellow night purge cooling vents for mixed-mode ventilation and solar shading fins which turn their orientation from horizontal to vertical as they corner the building in response to the sun dropping in the sky.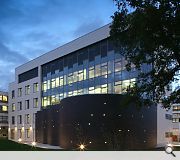 A 'serpentine wall' atatched to the MASB houses a suite of hi-tech electron microscopes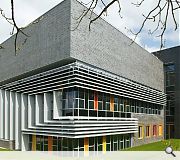 Both the CMBC (pictured here) and the MASB received BREEAM 'Excellent' awards and an EPC A rating
Back to May 2012