Ayr Cathedral gains fresh lease of life
April 20 2012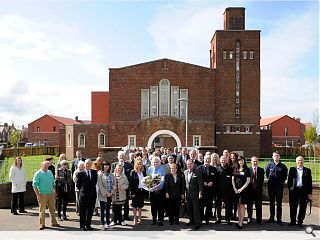 An abandoned Cathedral in Ayr has been reincarnated as social housing following an extensive
remodeling project by Ayrshire Housing
.
This has seen the tower and gable of the C listed former Roman Catholic Cathedral of the Good Shepherd retained and the erection of 25 new houses and flats by ARPL Architects.
Paul Torrance, chair of Ayrshire Housing, said: "I'm delighted that after 10 years of hard work and false starts, we've been able to transform this already impressive building into such excellent new housing.
"I'm saddened though that this is likely to be our last significant project unless the Scottish Government changes its tune on funding. They've slashed new build grant rates to unsustainable levels. If accepted these will undermine the number of new starts, reasonable rents and quality services in the long-term".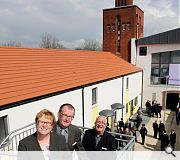 Mrs Margaret Connor was amongst the first new tenants to move in
Back to April 2012