Andy Scott unveils Lomondgate stag sculpture
April 20 2012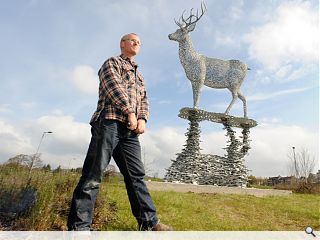 Prolific sculptor Andy Scott has revealed his latest metallic creation, a two ton stag sculpture erected as a gateway to Lomondgate Business Park.
Commissioned by the Walker Group and Strathleven Regeneration Company the six metre high sculpture has been placed by a busy roundabout at the main entrance to the park.
It has been perched atop a raised plinth to give the impression of standing in water with a reflection underneath and was painstakingly pieced together by Scott who chopped up some 2km of steel before welding thousands of individual components together to craft the piece.
Explaining his inspiration Scott said: "Loch Lomond is a place of astounding natural beauty and I wanted to design a sculpture that featured some of the Scottish wildlife found there. The stag really spoke for itself as it is such a strong iconic Scottish image.
"The real challenge of the design was to portray the stag's reflection in the water, which was something new for me and took quite a bit of work but I am really happy with how it has turned out."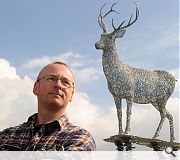 In heraldry a stag is a symbol of regeneration and growth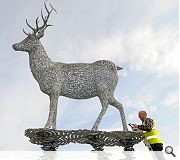 Spotlighting will highlight the structure to passing motorists
Back to April 2012