Clyde Gateway detail Dalmarnock vision
April 17 2012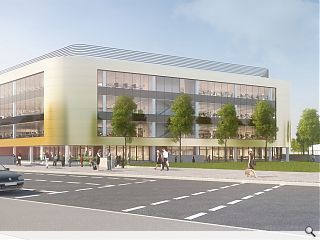 With a raft of redevelopment works set to take place around Dalmarnock, not least with RMJM's athlete's village, the race is on to upgrade the civic realm ahead of the looming 2014 deadline.
Amongst these projects is a refurbished Dalmarnock Station and the East End Regeneration Route, set for a grand unveiling on April 26 complete with a vintage bus procession. Adjacent to both these projects is an ambitious new speculative office scheme, the first such initiative by Clyde Gateway which has hitherto shied away from commercial projects but is rolling its sleeves up here in the absence of the private sector.
Urban Realm dropped in on a public exhibition held by Clyde Gateway at their Bridgeton base where Alison Brown, project manager at the regeneration body explained the rationale behind the project, (
nicknamed RED for Research & Enterprise Development
). Brown said: "We're keen to create an exciting new building for Dalmarnock, this is the first for the area so we want to set a benchmark.
"The brief that I set Cooper Cromar was to look at a Grade A 100,000sq/ft building split between an office and business centre with conference facilities, parking for 150 cars and a coffee shop."
This brief has been met with a curvaceous design that incorporates an illuminated plant screen to act as a visible halo and beacon for the wider area. The facade system is still under consideration but an originally mooted a shingle or mesh format has been discounted on grounds of practicality. Further design work is also ongoing around the entrance.
Brown continued: "We're looking at a black granite material for the ground, for the main façade we're looking at a golden/bronze colour but we're up for a discussion on that. There is a relationship with the bronze/gold at the Games, we just need to be a little bit careful of the finish as it relates to the station."
"We do have an option to accommodate 50 odd spaces in the basement but we are being challenged by cost and contamination. It'll cost a huge amount of money and if we do clean up the site we could still get odour from that basement car park.
"All the parking will be provided across the road behind the stone wall on Bartholomew Street.
"One of the reasons we've put the office where it is to allow a setback area between the tunnels. Gas and electricity substations it's been really difficult to get the building on that site because in all honesty I wanted the building hard up and close to the cross, but we just couldn't get it to work because of a mineshaft."
Tenants are currently being sought for the property.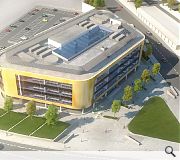 A secondary pavilion structure may be built above the mine shaft at the road junction to engage the street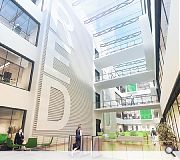 Branding will play a prominent role inside and out
Back to April 2012