Wheelchair friendly Edinburgh home takes shape
April 13 2012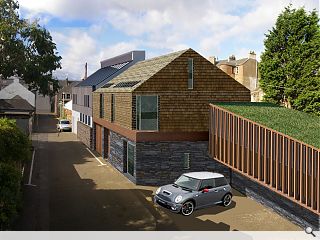 Ian McMillan, architect associate at BDP, has unveiled his designs for a unique disability friendly home for his family – drawn up in collaboration with his wife Thea who has taught architecture at Edinburgh University.
Squirrel Cottage in Edinburgh's Portobello district, is costed at £250k and is being custom built to cater for their young daughter who uses a wheelchair.
This has necessitated designing barrier free spaces around a central ramp to allow Greta, who has been involved in the design of the home from the start, to participate in everyday family experiences.
Key to this has been the need to manage site levels whilst minimising the amount of dead space which would arise from the insertion of a 'bolted on' ramp.
To mitigate this McMillan has arranged spaces and events around a 'Z' shaped circulation space in order to create a 'journey' which both breaks down the ramp length and allows more useable space.
Describing the "monstrous" struggle with Edinburgh City Council to get planning permission for a 1 in 9 ramp McMillan told Urban Realm: "It's totally non-compliant in terms of the technical standards, but speaking at an early design stage with Tom Lister of People Friendly Design, he encouraged us to design it as we and Greta would like to use it, as it is a private house as opposed to a public building."
Nevertheless this has meant that the family has had to, reluctantly; make provisions for the installation of a lift.
Currently on site the project should be completed by November with McMillan providing
regular site updates and progress reports via his blog
.
Back to April 2012