Ayr tickled pink by Georgian building makeover
March 30 2012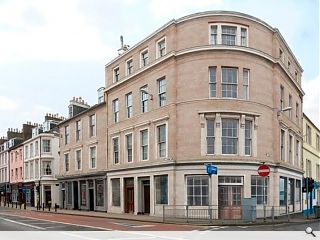 ARPL Architects are celebrating after South Ayrshire Council gave the green light to their proposal for the transformation of Ayr's "pink buildings", a prominent structure which acts as a gateway to the town centre.
First phase works valued at £2.5m are being bankrolled by the Ayr Townscape Heritage Initiative which intends to sensitively conserve and repair the historic buildings including the removal of an existing paint finish, stone repairs, re-roofing and window repairs.
It will also entail the introduction of a new painted metal balustrade and balconies, cast iron downpipes and gutters, a new shop entrance and painted metal gates.
ARPL Architects Ltd director Gordon Fleming added: "The famous pink buildings contain some fine Georgian interiors which now urgently need specialist repair and conservation works carried out.
"Externally also many of the original architectural features have been lost during many years of neglect.
"Happily, funding has now been made available for the implementation of a comprehensive conservation scheme covering the two buildings, including replacing the balconies, upgrading the shop on the ground floor, and restoring the famous frontage to its original state.
"All of us at ARPL Architects Ltd are proud to be working on this project, which utilises this firm's recognised expertise in the conservation of historically important and sensitive old buildings."
ARPL hope Ayr will be tickled pink by their refresh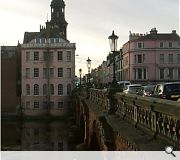 The dilapidated buildings paint a poor first impression
Back to March 2012