Titanic Belfast unveiled
March 31 2012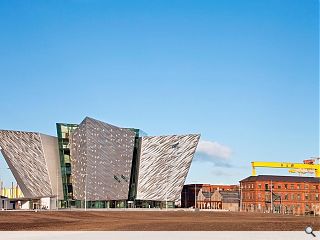 Northern Ireland's largest tourism project, Titanic Belfast, has today opened its doors to visitors.
Designed by CivicArts/Eric R Kuhne & Associates and Todd Architects the £97m centre is located in the shipyard where the eponymous vessel was built and features six floors of interactive galleries which bring the sights, sounds, smells and stories of the ship to life.
Centrepiece of the wider Titanic Quarter, a new retail, residential and business district, the scheme is intended to enliven Belfast's waterfront.
Kune said: "As Concept Design Architects we have created an architectural icon that captures the spirit of the shipyards, ships, water crystals, ice, and the White Star Line's logo. Its architectural form cuts a skyline silhouette that has been inspired by the very ships that were built on this hallowed ground.
"Behind this shimmering crystalline façade, four dynamic ships hulls hold nine galleries. Glass balconies overlook the shipyard, drawing office, slipways, and Belfast city centre. The five-storey central atrium is inspired by the majesty of gangways, gantries, cranes that filled the void between the Titanic & Olympic when they lay side-by-side upon the slipways."
Paul Crowe, MD of Todd Architects, added:" Titanic Belfast has a complicated geometry, providing a challenging build programme which required ground-breaking construction techniques. Its stand-out exterior façade, which replicates four 90 ft high hulls, is clad in 3,000 individual silver anodized aluminium shards, of which two-thirds are unique in design. The resolution of the geometries involved required the use of sophisticated 3D-modelling, completed by Todds in-house, in a process of 'virtual prototyping' which we developed specifically for the project."
Back to March 2012