Trump puppet satirises Menie golf estate
March 26 2012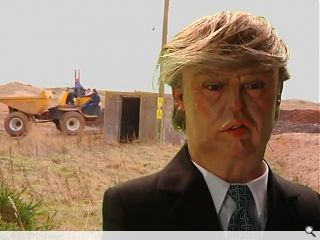 Queen guitarist Brian May has sanctioned the release of a new version of his bands opus, Bohemian Rhapsody, to satirise Donald Trump's plans to build
The three foot, toupee wearing, puppet, is introduced singing a rewritten version of the eighties medley; "a song of relentless determination and unparalleled ego in his battle for ' The Great Dunes of Scotland'".
The "comical and hard-hitting topical tilt at the controversial billionaire" comes as Trump threatens to abandon plans to build a hotel on the site unless
controversial offshore windfarm proposals are rejected
.
May described Menie as: "A horrible example of bullying the defenceless by a rich man who apparently can buy anyone or anything he wants."
For his part Trump asserts that the course will take Scottish golf to "new levels of excellence."
Back to March 2012