Highland Council recommends distillery approval
March 26 2012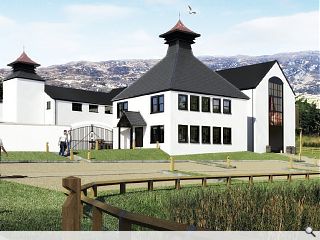 A new distillery and visitor centre by the Glenmore River, Lochaber, is being recommended for approval by Highland Council.
Adelphi Distillery has enlisted Organic Architects LLP to design the structure, located on a former sheep pen.
It will be just 1.5 miles west of Adelphi's headquarters at Glenborrodale Castle the distillery would be the most westerly in mainland Scotland and powered by its own wood chip fuelled biomass plant.
Author Alexander McCall Smith, a proponent of the scheme, said: "I very much hope that this extremely important project will soon be able to be realised. The contribution that premium malt whisky makes to the Scottish economy is immense. Distilleries are of great benefit to the local community and to Scotland as a whole in so many ways.
"It is very exciting to have the prospect of another good distillery in this part of the country – the benefits to tourism are obvious and we should also bear in mind that malt whisky is going to become increasingly in demand in the future. It would be wonderful if this project could start soon. I personally look forward to it with eager anticipation."
Some objectors claim that the site is inappropriate for such development however, pointing out that the single track access road is inadequate for coach tours.
Back to March 2012