Charles unveils prototype Arts & Crafts home
March 19 2012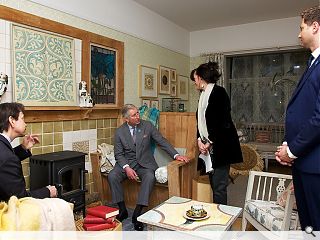 HRH The Prince of Wales has supped tea within his prototype Art & Crafts House, a prototype for a new breed of low carbon eco home which the Prince intends to unleash across the UK.
Inspired by the 19th century movement of the same name the full scale mock-up has been erected for the Ideal Home Show and is intended to showcase how sustainability can be both comfortable and beautiful – by employing good quality materials and craftsmanship.
This includes stained glass, decorative ironwork, lino-cut wallpaper, timber flooring, decorative stencilling, handmade tiles, traditional joinery and slate worktops sourced from England's last slate quarry.
Many of these features have been produced by students from several of the Prince's charities; including The Prince's School for the Traditional Arts and The Prince's Drawing School.
Hank Dittmar, Chief Executive of The Prince's Foundation said: "The Prince's Arts & Crafts House is an attractive, affordable, low energy green home designed by The Prince's Foundation and built with a focus on natural materials and British craftsmanship…"
"We believe that sustainability comes from re-discovering local materials and craftsmanship and creating beautiful, well built homes with real character that will hold their value and continue to be useful and adaptable long into the future."
The home is scheduled to make an appearance at the Scottish Ideal Home Show between from june 2nd to 5th whereupon it will be put to use as someone's home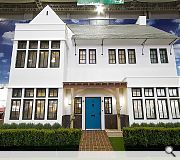 A new breed of arts & crafts housing could soon proliferate around the UK
Back to March 2012