Reiach & Hall detail Commonwealth Games regeneration plans
March 16 2012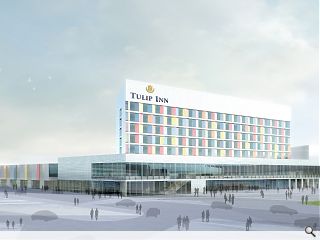 Reiach & Hall have released further details on their design for a
£44m retail and leisure park
in Glasgow adjacent to the National Indoor Sports Arena, centrepiece of the 2014 Commonwealth Games.
The development will be dominated by a 150 bedroom hotel clad in white ceramic tiles, enlivened by a series of decorative windows to inject a splash of colour into the east end.
Alongside the hotel will be built a health centre faced with translucent glass bricks, 1100sq/m of retail and five restaurants.
Lyle Christie, director at Reiach and Hall, said: "The vibrant colours of the hotel are an abstraction of Holland's Tulip fields. The colour palette is informed by the work of the Dutch artist Steven Aalders, who showed some work in our gallery, Sleeper, a few years ago."
Work on the scheme could commence as early as July if approved.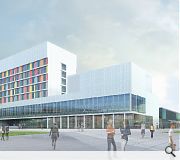 The scheme is being branded as 'The Arena' and is being bankrolled by Glaswegian developer Kevin Fawcett
Back to March 2012