Twin Western Isles schools progress
March 8 2012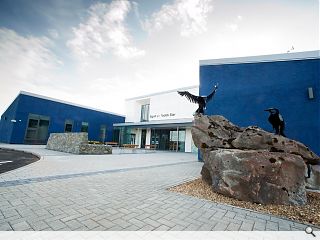 Two of six schools comprising the £125m Western isles Schools Project, Sir E Scott School, Tarbert, Isle of Harris and the West Side Primary School, Barvas, Isle of Lewis, have progressed with the former handed over by main contractor FMP to the facilities management company, FES FM Ltd and the latter completing.
Comprising a nursery, primary and secondary school accommodation the Sir E Scott school had to be built on a constrained site whilst retaining access to the old school, playing fields and the Harris Sports Centre.
Demolition of the old school has already commenced and is expected to conclude by July.
West Side Primary meanwhile completed on March 5 and will welcome its first intake of pupils in the new term after the Easter break.
Martin Joyce, Head of Operations, Sgoiltean Ura, a special purpose vehicle set up by Western Isles Council to deliver the schools, stated: "We are delighted that FMP have successfully delivered a further two schools on these geographically remote and challenging sites and look forward to the last two schools completing as planned in July this year."
The design team for both projects comprises 3DReid, Goodson, Wallace Whittle and TGP Landscape Architects.
Images taken by Leila Angus of Brighter Still.
Back to March 2012