Contractor appointed for Dumbarton Academy
March 8 2012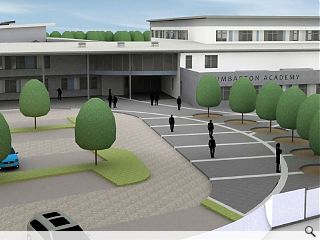 BAM Construction has been appointed by West Dumbartonshire Council to build the new Dumbarton Academy, a £15.5m replacement for the existing school.
Designed by Keppie and engineers KJ Tait the 650 place secondary school will be built from blue and grey brick, metal cladding and glass the new look school will benefit from three floodlit sport pitches and a 100m running track.
This will entail demolition of the existing unlisted Dumbarton Academy once the new build is completed.
Sporting a landscaped entrance off Crosslet Road the school will incorporate a theatre and library around three teaching wings which radiate north from a main circulation route.
A proposal to open up these pitches to the community out of hours was blocked however following complaints of antisocial behaviour at a similar scheme in Clydebank.
Construction work is scheduled to complete by summer 2013.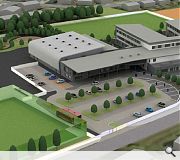 Dumbarton Academy was approved back in August 2009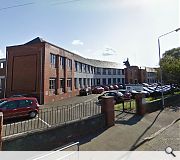 The existing school will be demolished post construction
Back to March 2012