Riverside Museum showcased at 'construction art' exhibition
March 8 2012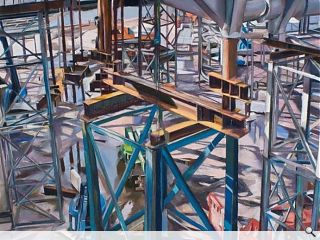 The first ever exhibition of 'construction art' opens in London's Brick Lane tomorrow to showcase the work of artist Patricia Cain -
a pioneer of the style
.
BAM gave Cain unprecedented access to the construction site, facilitating the creation of a series of drawings, paintings and sculptures which captured the process of creating Glasgow's Transport Museum on canvas.
These paintings subsequently went on to win the artist a prestigious Threadneedle Prize.
Cain said: "As a relative outsider I was given a real insight into the experience of what it's like to be on site during the construction of a seminal public building. The BAM guys probably take it for granted, but the organisation of making a structure like this is like some complicated dance sequence.
"I came to appreciate how construction is all about management, being able to work with others and creating something through skill....so there are a lot of similarities with the process of making art."
The free exhibition is being held at Eleven Spitalfields, a private gallery designed and owned by Chris Dyson, and can be accessed by appointment from March 9 to April 29.
Back to March 2012