Bridgeton's Olympia dome winched back into place
March 1 2012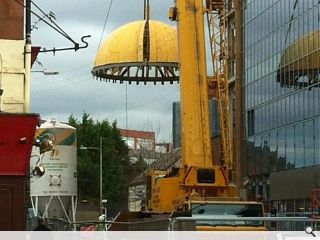 A giant five tonne wooden dome, demounted for refurbishment, has been carefully winched back into the position it has occupied for 100 years.
The former Olympia Theatre is in the throes of a £10m refurbishment project financed by Clyde Gateway to bring the landmark structure back into productive use.
This has seen Page\Park architects take the helm of an ambitious restoration and new build programme to introduce a new public library, café, performance facilities and office space for the Bridgeton Cross area.
The <a href="http://www.urbanrealm.com/news/2062/Clyde_Gateway_acquire_Bridgeton%27s_Olympia_Theatre.html">former theatre had formerly lain derelict</a> and its interiors were badly gutted by a severe fire in 2004.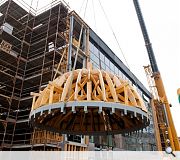 Photographs were taken by Warren Media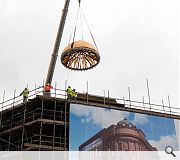 The refurbished Olympia Centre will open its doors in the autumn
Back to March 2012