SSE submit Great Glen hydroelectric plans
February 17 2012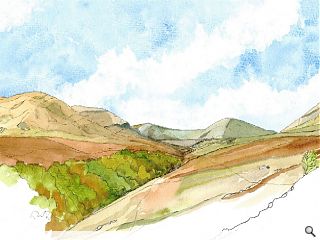 SSE Renewables has submitted an application to permit construction of a 600MW capacity hydroelectric station at the Great Glen.
If granted the £800m scheme would constitute the largest hydro project to be built in Scotland and the first pumped storage scheme to be built in Britain since Dinorwig, Wales, in 1974.
This would entail construction of a new 92m tall dam and associated reservoir at loch a' Choire Ghlais, beneath which would reside a powerhouse complex and tunnel network to ferry water between lower and upper reservoirs.
At the foot of the mountain an administration building, jetty, tunnel portals and tailrace structure would be built on the shores of Loch Lochy.
If approved the scheme would not commence construction prior to 2014 at the earliest, with a five year construction programme following.
Jim Smith, Managing Director of SSE Renewables, said: "Hydroelectric schemes, which use impounded water to generate electricity, are an excellent means of energy storage.
Consequently, they naturally complement the variable output from the growing number of wind farms and play an important part in meeting peak demand."
Back to February 2012