Hoskins pens alternate Helensburgh vision
February 16 2012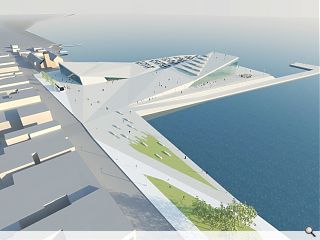 Gareth Hoskins Architects have published a self-funded strategic vision for the seaside town of Helensburgh - as an antidote to a planned
out-of-town Waitrose supermarket application
set to go before planners later this month.
Hoskins, a Helensburgh native, embarked upon the independent vision after being
appointed back in 2009 to look at the siting of a new pool and leisure centre
. Undertaking this work he realised that Helensburgh is hamstrung both by its neglected pierhead and the eyesore site of the former Hermitage Academy.
In an effort to frame these planned leisure facilities within a more appropriate context Hoskins envisages a redeveloped pierhead, anchored by a new supermarket, whilst improving connectivity between key civic and visitor attractions - and postulating a possible housing expo on the Academy site.
Of these twin developments Hoskins wrote: "Together they offer the only real potential within the town to accommodate carefully considered and coherent development of real design quality, at the scale that would meet the pressing demand for the new residential, public, leisure and retail facilities required to safeguard the future viability and vitality of Helensburgh.
"Conversely, a decision to consent the Class 1 food store on the land south of the new Hermitage Academy would be potentially damaging, and motivated by an extremely short-term and narrow view of the likely impact on the town."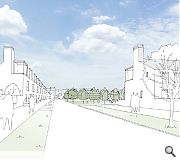 Hoskins proposes staging a housing expo on the former Academy site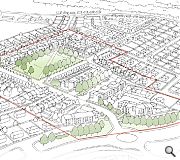 The Expo site in context
Back to February 2012