Analysis: Union Terrace Gardens
January 17 2012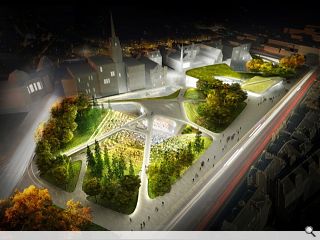 A design jury's
unanimous backing
for Diller Scofidio & Renfro and Keppie Design's 'Granite Web' in Aberdeen has stirred a great deal of controversy.
Here Urban Realm editor John Glenday gives his analysis, published in today's Scotsman.
"Diller Scofidio & Renfro's 'granite web' of interconnected walkways has been sold as a vision of the future for Aberdeen. However the seductive sixties sci-fi vision presented may be out of date before the journey from concept to reality has even begun.
"In their submission the architects have spun a tale of making Aberdeen "throb" again but the history of elevated walkways and underpasses, as anyone who has ever traversed any concrete New Town will attest, is often dystopian.
"Health and Safety officials are also likely to have a field day with the walkways and platforms as presented, inevitably leading to a compromised design with fencing, signage and other clutter once the demands of building regulations are met.
"That said the scheme isn't without merit, the series of 'tendons' which weave their way into the existing streetscape should improve footfall the layered approach adds drama to the existing site topography, drawing light and views down to the cavernous Denburn valley interior.
"Spanning this space with column free pathways poses a considerable structural challenge in and of itself, a difficulty exacerbated by the need to keep an active road and rail link running throughout the construction period. This won't come cheap. Indeed, if similar big budget projects are anything to go by, the stated £140m cost could turn out to be the most ambitious element of this scheme.
"Hopefully these issues can be resolved in any full planning application, assuming the scheme make it that far. Ahead of the planned referendum the assumption must be that the only webs Union Terrace Gardens will acquire in the coming years are cobwebs."
Back to January 2012