Trump halts Menie golf resort work over wind farm fears
January 18 2012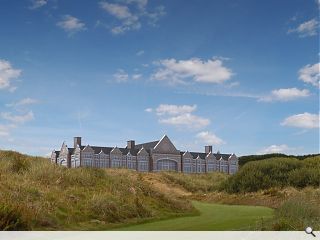 Donald Trump has called a dramatic halt to all work at his under construction Menie golf estate over fears that a planned off shore wind turbine development will ruin views from his north east resort.
Scottish ministers are currently deliberating over whether to approve plans by the European Offshore Wind Development Centre to erect 11 turbine within view of the development.
But Trump has said that the last thing he intends to do is build a hotel fronting onto the "horrendous looking, noisy and inefficient structures."
In a statement The Trump Organisation said: "We intend to open the championship golf course at the end of June, well ahead of schedule.
"All further plans for future development,
including the hotel
, are now on hold until the Scottish government makes a decision on the application for the European Offshore Wind Deployment Centre.
"If the north east of Scotland is serious about tourism and creating a global golf destination it cannot allow the coastline to be ruined by an ugly industrial park directly off the shoreline."
Back to January 2012