Historic Scotland detail Isi Metzstein's legacy
January 13 2012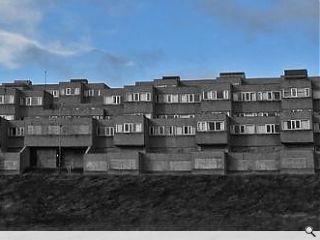 Recalling the work of the
late Isi Metzstein
Dr Deborah Mays, Historic Scotland Director of Policy and Outreach, has commented on the remarkable built legacy which the influential architect has left behind.
In all Metzstein helped create 34 listed buildings (detailed below), here Mays explains how Metzstein's legacy is set to endure: "Isi Metzstein's work has had an undeniable impact on the architectural landscape of Scotland. He was seminal, pioneering and inspiring; raising Scottish architecture to a global stage.
"In addition to his skill as an architect he was also very gifted at explaining his vision and what he hoped to achieve with his designs. A natural communicator, he has influenced many of the architects that heard him speak, and as a gifted teacher he has shared his expertise to the benefit of Scotland. In his presence, the energy was tangible, motivational, a privilege I shall treasure.
"The work of Gillespie Kidd and Coia from the mid-1950s was largely the product of the combined talents of Isi Metzstein (b 1928) and Andy MacMillan (b 1928) who started working in Jack Coia's practice in 1945 and 1954 respectively.
"Indeed, their contribution to church building is so great that it became the subject of one of Historic Scotland's earliest biographical thematic listing programmes, in which, in 1994, the pre- and post-war churches of Gillespie Kidd and Coia were reviewed.
"Their repertoire is wide-ranging, but a particular understanding of the modern mechanics of teaching – either spiritual or pedagogical – saw them excel in numerous commissions for schools and college buildings.
"Notre Dame College of Education (later known as St Andrew's College), Bearsden (1969) is not only nationally important, but it also reflects the international trend in contemporary architecture when prestige architects were hired to plan entire architectural environments for many public institutions.
"Not only does the college relate to other significant university campus developments in Britain, such as the 'new' universities, but it also shares close similarities with internationally recognised structures such as Moshe Safdie's Habitat for Montreal's Expo in 1967 and many of Le Corbusier's later designs for mass housing, including, for example, the Unité d'Habitation in Marseilles."
Listed Gillespie Kidd & Coia work:
St Peter's College, Cardross (Category A)
St Paul's Roman Catholic Church, Glenrothes (Category B)
St Peter-in-Chains RC Church, Ardrossan (Category A)
St Matthew's RC Church, Bearsden (Category C(S))
St Margaret's RC Church, Clydebank (Category B)
Sacred Heart RC, Kildrum (Category A)
St Michael's RC Church, Dumbarton (Category B)
St Bride's RC Church, East Kilbride (Category A)
St Mary of the Angels RC Church, Camelon (Category A)
St Benedict's RC Church, Glasgow (Category B)
Our Lady & St Francis Secondary School, Glasgow (Category A)
Materia Medica & Physiology building, University of Glasgow (Category B)
85 Buchanan Street (Category B)
Immaculate Heart of Mary RC Church, Glasgow (Category B)
St Joachim's RC Church, Carmyle (Category C(S))
St Paul's RC Church, Shettleston (Category B)
St Martin's RC Church, Castlemilk (Category B)
St Columba of Iona RC Church, Glasgow (Category A)
St Charles RC Church, Kelvinside (Category B)
Our Lady of Good Counsel RC Church, Craigpark (Category A)
St Anne's Church, Glasgow (Category A)
St Patrick's RC Church, Greenock (Category A)
St Laurence's RC Church, Greenock (Category A)
St Patrick's RC Church, Kilsyth (Category A)
Holy Family RC Church, Port Glasgow (Category A)
Municipal Buildings, Stirling (Category B)
Knightswood Secondary School (Category B)
St Andrew's College, Bearsden (Category A)
Kildrum Primary School (Category B)
Our Lady's High School, Cumbernauld (Category B)
Cumbernauld College (Category B)
St Simon's RC Church, Partick (Category B)
St Michael's, Linlithgow (Category B)
St Columbkillie, Rutherglen (Category A)
Back to January 2012