Cairngorm New Town approval provokes legal challenge
January 11 2012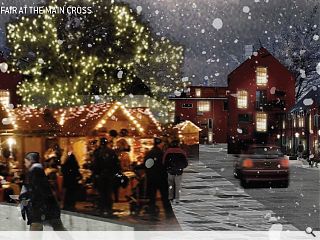 A legal challenge has been launched against controversial plans to erect a new town of 1,500 homes at Aviemore - within the Cairngorms National Park.
The huge estate, which would double the size of Aviemore, will be known as An Camas Mor and has already been approved by the Cairngorm National Park Authority after they accepted the need to provide more affordable housing for locals.
Protesters claim that the move makes a mockery of the supposed protection offered by 'national park' status.
Prepared on behalf of the Rothiemurchus Estate by Copenhagen based Gehl Architects and Edinburgh based Benjamin Tindall Architects
the masterplan calls for construction of a central High Street enveloped by a mixture of detached housing and higher density apartments and townhouses together with, workshops and public buildings.
Brian Linnington, president of the Mountaineering Council of Scotland, said: "A new town in the middle of the Cairngorms National Park, with housing which will no doubt be unaffordable by most people's standards, is an unwarranted impact on the amenity of one of our national scenic areas."
Should the legal challenge fail the village could be built by 2027.
A further 450 homes have been approved by the Park authority at three other locations scattered throughout the Park.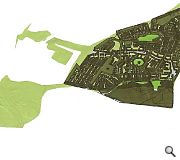 Should the legal challenge fail the village could be built by 2027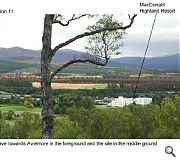 The sprawling development would rise just 8 miles from the summit of Cairn Gorm
Back to January 2012