Canal visitor centre opens at Edinburgh Quay
January 11 2012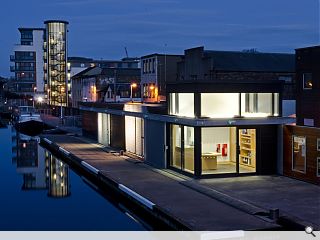 Smith Scott Mullan Architects are celebrating completion of a new £350k canal visitor facility for British Waterways at Edinburgh Quay.
The small pavilion offers improved facilities for users of the canal, including an information point for visitors, encouraging boaters to moor up and explore local attractions.
Occupying a narrow 4.5m wide plot, a scheduled monument, the scheme aims to embrace the industrial heritage of the area.
Describing their design the practice said: "Built of robust materials, its form responds to the horizontal nature of the canal, which is completely level between Edinburgh and Falkirk.
"A series of metal panels slide into place to cover the extensive glazed areas at night."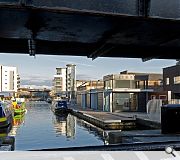 Contrasting facade treatment sees a solid facade presented to the road with an open glazed facade presenting to the Union Canal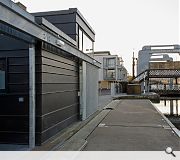 The visitor reception takes the form of a minimalist glass box
Back to January 2012