GRAS celebrate fifth anniversary
January 10 2012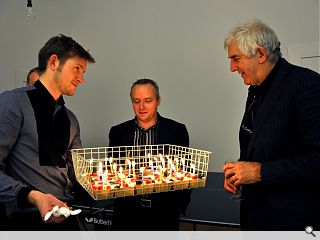 GRAS, a young satellite branch of the more venerable Groves-Raines Architects, are celebrating their fifth anniversary – a period which has seen work conducted on 50 individual projects.
Founded in October 2006 by Gunnar Groves-Raines (son of practice founder Nicholas Groves-Raines), Stuart Falconer and Steven Orr – the practice has gone on to complete 12 projects.
Speaking from the practices James Morrison Street base, Groves-Raines told Urban Realm: "We had the opportunity to take a space here and set up the office under our own brand with our own set of ideals."
Speaking of their 50 projects Groves-Raines told Urban Realm: "We've been paid for 35 of them, 27 are dormant and 11 we think have a realistic chance of going ahead. It's been interesting to review that and see if there is any way we could have foreseen those 27.
"The nature of the work that we do means we've been able to keep busy right the way through. We haven't lost any staff because we work in a broad range of quite small projects, so if any one project fails it doesn't have quite the same effect as if you're a big multinational. Also the conservation sector is much more recession resistant in a country where the built heritage is so important to the tourism industry."
Back to January 2012