Government backs High Speed London Birmingham rail link
January 10 2012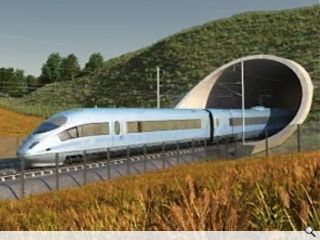 The government has approved plans to construct a 100 mile high speed rail line between London and Birmingham, alongside concessions to environmentalists which will see 8 miles of the route buried in a "green tunnel".
It forms the first phase of a longer term plan which could ultimately connect both Glasgow and Edinburgh to the capita, bringing journey times down to a mere two hours by around 2033.
Construction work on the Birmingham leg could begin from 2016 for completion by 2026.
Explaining the government's backing Transport Secretary Justine Greening said: "I have decided Britain should embark upon the most significant transport infrastructure project since the building of the motorways by supporting the development and delivery of a new national high speed rail network.
"By following in the footsteps of the 19th century railway pioneers, the Government is signalling its commitment to providing 21st century infrastructure and connections – laying the groundwork for long-term, sustainable economic growth."
A study has been instigated into the
upgrade of Glasgow's High Street Station to act as northern terminus of the showpiece line
.
High Speed Rail Animation from HS2Ltd on Vimeo.
Back to January 2012