Mary Portas publishes blueprint for High Street renewal
December 13 2011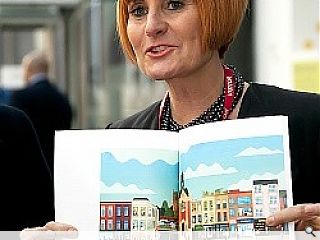 Retail marketing consultant, Mary Portas, has published a long awaited report into the future of Britain's High Streets with a warning that many could be lost altogether unless shops and councils collaborate on regeneration.
In all
28 recommendations are set out in the report
; which include cutting red tape for those seeking to set up market stalls and relaxing restrictions on night time deliveries.
These are seen as vital to combat the growing threat posed by the internet, supermarkets and out of town shopping - although Portas has ruled out a moratorium on out of town developments, or a tax on their parking.
Instead Portas wants to see cheap parking introduced in our High Street's with local areas given the freedom to pursue individual specialisms; such as smaller boutique stores, emphasis on culture, or facilities for older people.
Speaking to the BBC Portas said: "Our model for the High Street today is the same as it was in the sixties.
"What I'm proposing is that we look at our High Street as a multifunctional social and shopping High Street so that we create footfall on the High Street for uses other than shopping.
"Can you imagine if we put our gyms onto the High Street, places where people normally go out of town for? What you then do is start to get a social hub happening and what follows on then is retail and businesses who want to cater to those people.
"I want to give an alternative that actually has a meaning for locals. I've met and spoken to people up and down the country and they've told me 'I want to shop locally', 'I want to meet friends locally'… but it's not happened."
Already the report has sparked criticism from councils which claim they have not been consulted. Peter Box, of the Local Government Association, said: "Councils play a crucial role in growing local economies and improving High Streets and need to be suitably consulted if they are to achieve this. We urge Mary Portas to enter discussions with councils on how they can boost local High Streets."
But Portas explained: "If we just left it to councils, who are short on funds and who have enough on their plate, they are likely to be looking for short term cashflow coming in. Therefore some things which are not right will come on the High Street which community leaders later say they don't want.
"Therefore I've looked at how you create 'town teams' where you bring all the people together. When you think of the High Street they are civic spaces, not private spaces, and therefore as customers we should stop being so passive and start being co-creators with the councils, with the landlords, with the retailers and with the businesses."
Caroline Kendal, director and founder of childrenswear website MiniWardrobe.com, commented: "When online shopping came into being, the high street was always bound to take a hit. However, while the decline of British high streets is in part due to competition from online retailers, as well as the recession, shopkeepers' failure to adapt and embrace changing shopping habits and use technology is also to blame.
"One of the main issues that deters shoppers from the high street is long queues. High street shops should be looking at ways customers can pay for their purchases more quickly, dramatically slashing queuing time in store and smoothing the shopping process.
"The technology is there but retailers aren't using it.
"Mobile phone manufacturers have already started integrating NFC technology into smartphones so consumers will eventually be able to make swift in-store financial transactions via their phones. If retailers harness modern technology in the same way online retailers have, then there is hope for the high street."
Back to December 2011