Page\Park detail Portrait Gallery highlights
December 2 2011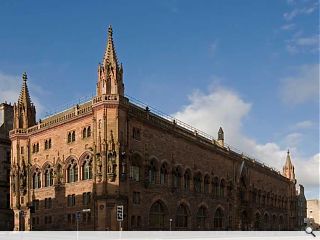 Architect David Page has painted a picture of his newly completed work on the
Scottish National Portrait Gallery
, a project which has achieved a united gallery across the whole building for the first time in its 100 year history.
Now boasting a dramatically reconfigured interior the cultural institution boasts as much as 60% more display space, helped by several cunning interventions - notably insertion of office space into a new mezzanine level which has been likened to 'inserting a ship into a bottle.'
Speaking to Urban Realm Page detailed some highlights of the Gallery, noting: "Its unique urban setting on the corner of the New Town makes it a true urban building rather than isolated set piece."
Outlining some of the key characteristics of the refurbished space Page drew attention to the creation of a sequence of top lit galleries on the top floor.
This reflects a prosaic opened up arcade along the ground floor to deal with entry, shop, café, education and introduction - leaving the main hall free as an "emblematic interior for the building" and a "sandwich of side lit spaces on the first floor housing the photographic collection and relocated library. "
Visitors to the reopened building can look forward to a striated display with the modern collection on the ground and first floor and the classic collection on the top floor. Flexibility in the galleries design allows for alternative collection arrangements in the future.
Accessibility is enhanced by the insertion of a new ramp to the front door which Page conceived as a "smile on the face of the façade" whilst a public lift link to the upper floors doubles up as the painting and sculpture lift.
Page concluded: "Someone made a nice comment, the Portrait Gallery as old friend made young
again.
"I like that."
Back to December 2011