Motherwell tower block meets explosive demise
November 21 2011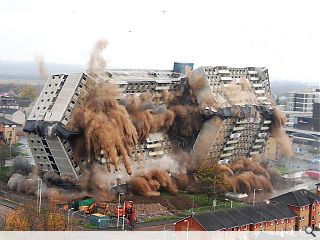 Glencairn Tower, a 17 storey slab block in Motherwell, has been brought down in a controlled explosion over the weekend.
Thousands of local residents were evacuated from their homes to allow the Sunday afternoon blow down to take place safely, clearing the way to accommodate the latest phase of a £75m project to build 500 new homes across North Lanarkshire.
Technical Demolition Services carried out the blow down, which resulted in just one cracked window.
Former tenant Colin Campbell added, "It's been a nostalgic and emotional day for myself and probably for a number of local people. Having lived in and grown up in the tower I have many fond memories of the building, particularly as my dad was one of the caretakers there.
"It was spectacular to see and I'm sure the new houses planned for the tower site will make a positive difference to the local area."
Glencairn Tower
was the largest of 49 tower blocks in the North Lanarkshire region.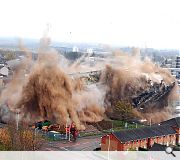 All images taken by North Lanarkshire Council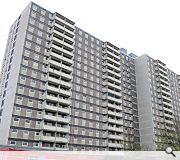 Motherwell's skyline will never be the same again
Back to November 2011