Union Terrace Gardens leak suggests decision is near
November 14 2011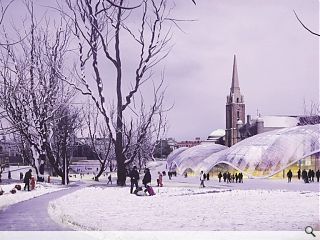 Reports from BBC News suggest that two designs have been shortlisted by jurors in a controversial plan to redevelop Aberdeen's
Union Terrace Gardens.
Understood to be amongst them are plans for a huge glazed winter garden, designed to act as an all season's recreation space, which proved to be a favourite amongst the public.
Jurors are continuing to mull over which scheme should be given the nod in a further round of deliberations ahead of their final decision in the next few days.
It comes ahead of a vote on Friday in which Aberdeen City Council will decide whether or not to hive off a decision on whether to proceed with the £140m scheme to a referendum.
Designs are being kept anonymous for now to prevent jurors from being swayed by any names attached to particular projects.
Back to November 2011