RIAS issue amended Kelpies competition details
November 12 2011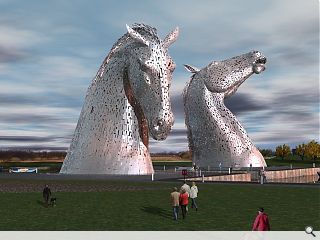 The RIAS have issued amended details of their commission to
organise a design competition
for the internal spaces of the planned 'Kelpies' horses head sculptures and an adjacent visitor centre.
Specifically this clarifies that the architect's body has been commissioned by the Helix Project in Falkirk rather than Falkirk Council directly.
The organisation have also emphasised in their headline that the architectural challenge is specifically an "internal space design competition" - to allay any confusion that the competition might involve an external redesign of Andy Scott's equine piece.
A link to the
official Helix project website
also gives more background to the nature of the planned scheme.
Split into two stages the competition will first will see architects invited to produce a 400 word statement setting out their case for being shortlisted.
Successful candidates will then present two A1 boards to the judging panel via an interview process.
Competition documents are available upon notification of interest to Charlene Byrne at cbyrne@rias.org.uk. An entry deadline for expressions of interest has been set at December 5.
Back to November 2011