Carbuncle Awards stir parliamentary debate
November 11 2011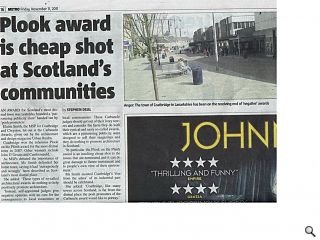 Urban Realm's annual Carbuncle Awards have elicited the ire of Elaine Smith, MSP for
Coatbridge and Chryston
, who took advantage of a Scottish Parliament debate on architecture to lambast the award for Scotland's most dismal town.
Smith said: "These types of so-called architectural awards do nothing to help positively promote architecture.
"Instead, self appointed judges give negative opinions with no care for the consequences to local economies or local communities. These Carbuncle judges should get out of their ivory towers and consider the harm they do with their cynical and nasty so-called awards, which are a patronising publicity stunt designed to sell magazines and they do nothing to promote architecture in Scotland."
Carbuncles organiser John Glenday responded: "Smith's comments belie a superficial and knee jerk response to an award which has done more than any other to engage communities alienated by an aloof and out of touch political class.
"Instead of directing her anger at the awards we urge Smith to direct that energy toward engaging positively with us to resolve the very real issues affecting our places and spaces.
"These problems cannot be swept under the carpet and Urban Realm will continue to serve as a platform for the debate and betterment of our built environment."
Back to November 2011