Idiosyncratic Borders home in for planning
November 11 2011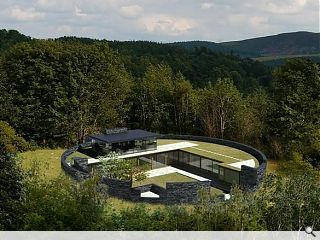 Richard Murphy Architects have submitted a distinctive circular home for planning permission to Borders Council.
Set amidst the historic landscape of Carolside House, Earlston, it forms part of an initiative by the owner to restore the grounds.
Until recently the site was in use as forest, a fact which may seem to stand in contradiction to this aim, but in their design statement the architect's state: "At first sight it might seem a contradiction to place a new house within this proposed landscape restoration.
"Our solution solves this conundrum by forming a building which appears to have no clues as to its function or indeed whether in fact it is a building at all."
Adopting the form of a hill fort the property encloses its own walled garden with a two metre high rampart of coarse stone rubble and boasts its own roof terrace and look out pavilion.
This latter element is the only portion of the property to punch above the ground floor, an effort to appear as a contemporary interpretation of a hilltop folly.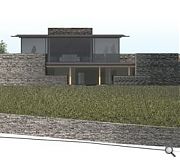 The home has been likened to some "mysterious archaeological object"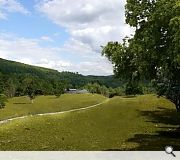 The home is the same diameter as a nearby broch
Back to November 2011