Consultations commence on Scotland's first 'sustainable village'
November 9 2011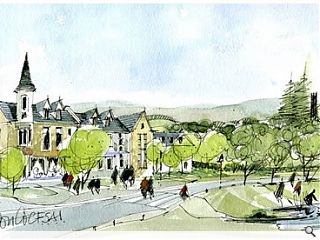 Kincluny Development Trust has announced that it is to initiate a consultation into its plans for a 'sustainable village' in the north east, on the site of a former quarry at Kincluny.
Billed as Scotland's largest sustainable construction project it is being touted as a socially aware development, employing renewable energy, conservation and environmental technologies to meet its carbon neutral targets.
Designed by Aberdeen based Halliday Fraser Munro the development is being marketed as self sufficient with particular emphasis placed on transport and the provision of energy and food.
Bill Burr, managing director at CHAP Homes, said: "Kincluny is unlike any other development. It's not all about the buildings. Bricks and mortar come later. It's about creating a community where people want to live and work."
Leona McDermid, commercial director at Aberdeen Foyer, continued: "We want local people to recognise that the village will be self-contained and self-sufficient. The Development Trust business model means that Kincluny will be financially stable with the micro economy 'locked in.'
"The community-owned social enterprise will unlock and build social capital for its people. Business units mean employment, training and entrepreneurship opportunities. Kincluny will add amenities, such as a primary school and thriving community centre, to the area."
The consultation will take place on Thursday 24 November, between 2pm and 8pm, at Drumoak Church Hall, Drumoak, Aberdeenshire.
Back to November 2011