'Kelpies' design competition launched
November 9 2011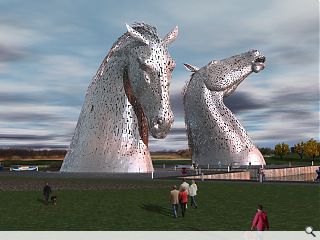 Falkirk Council have commissioned the RIAS to manage an architectural competition for the design of internal spaces and a visitor centre at the site of the
Kelpies
, Falkirk.
Split into two stages the first will see architects invited to produce a 400 word statement setting out their case for being shortlisted.
This will be followed up with the presentation of two A1 boards and interview with the judging panel.
The competition is being judged by the sculptor Andy Scott; RIAS president David Dunbar;Steve Dunlop, Director, Scotland, British Waterways and Robert McMaster, Head of Roads and Design, Falkirk Council.
Competition documents are available upon notification of interest to Charlene Byrne at cbyrne@rias.org.uk. An entry deadline for expressions of interest has been set at December 5.
Image produced by Graeme Gilmour.
Back to November 2011