Aberdeen University Library opens to the public
September 12 2011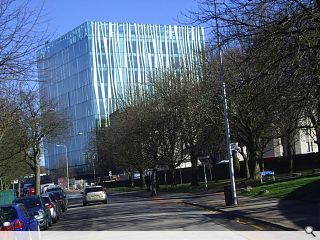 Aberdeen University's library, designed by Danish Architects Schmidt Hammer Lassen, has today opened its doors to the public following a two year programme of construction and fit out.
The giant glass cube is is defined internally by an asymmetrical atrium which rises diagonally through the sweeping contours of seven floors
Staff spent the summer transferring the university's book collection from its previous home with the task of transferring the university's collection of historic manuscripts, books and archives to the climate controlled lower floors set to follow in October.
At £57m it represents the largest capital fundraising project yet undertaken by the university
Founding Partner of architects schmidt hammer lassen, Morten Schmidt, said: "The University of Aberdeen's new library will be a meeting place and a cultural centre for the students of the University and the Aberdeen community.
"The façade of the building will shimmer during the day and glow softly at night, creating a luminous landmark - a beacon - for the whole city of Aberdeen."
Chris Banks, University Librarian and Director of Library, Special Collections and Museums said: "Our new library has created a stunning environment which accommodates new styles of learning, enables research and collaborations, and allows us to engage with all of our communities through exhibitions, public events, seminars, school groups, professional visits and much more."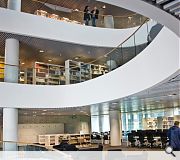 24km of shelving are accommodated within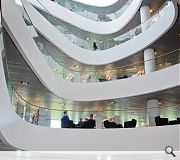 400,000, plus 200,000 rare books and manuscripts and 4,000 archive collections will be stored on site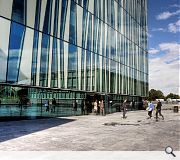 Contractor Pihl Construction UK began work in September 2009
Back to September 2011