Nord scale back Exchange Square hotel plans
September 12 2011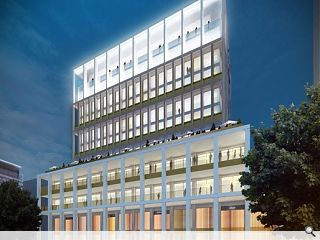 Nord Architects have responded to criticism that their planned Royal Exchange Square hotel was too tall for Glasgow's central conservation district by shaving off six storeys and losing a double height 2nd floor banqueting hall.
The redesign also incorporates an external terrace above podium level for hotel patrons and guests.
It marks an abrupt change in emphasis for the developer, Lynnet Leisure, which had previously been committed to pushing through a much more ambitious scheme –
and submitting a planning application to that effect
.
Project architect Alan Pert had previously described such a reduction saying: "A slab building was considered b=however this would be a bigger issue especially in relation to Royal Exchange Square. The tower is more appropriate than a slab design."
Back to September 2011