Tesco abandons Partick store plans
September 13 2011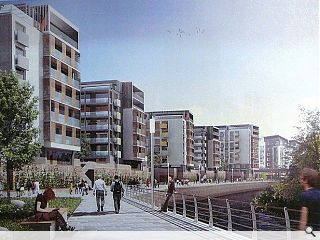 Tesco has abandoned plans to construct a controversial new store in Partick, having decided to merge the approved retail space with that approved for Glasgow Harbour.
Previously Tesco had applied to construct a
65,000sq/ft 'eco' store
and river walkway having abandoned plans to build student housing on the site. This will now be supplanted by an ADF Architects designed residential led scheme.
Proposed floorspace at Partick will now be added to a giant new store at South Street,
Glasgow Harbour
, designed by Manson Architects.
Gloria Coats, Tesco's corporate affairs manager, said: "To ensure that we are able to regenerate these important west end sites; and facilitate the development of our proposed new store at the Harbour, we are required to submit a proposal of application notice in respect of our intention to extend the lifetime of our existing planning permission at Beith Street.
"This will ensure that we can transfer the previously approved retail floorspace at Beith Street to South Street, develop our proposals at Glasgow Harbour and that Glasgow Harbour Developments Ltd can create housing and office space at Beith Street, Partick.
Back to September 2011