Plans submitted for Scotland's largest proposed new town
September 8 2011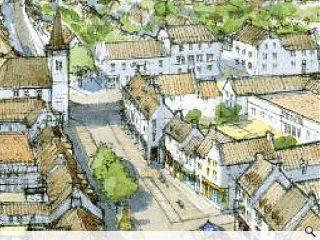 Elsick Development Company has submitted detailed plans for the first phase of 800 homes and Outline plans for a further 3,200 homes at Scotland's largest proposed settlement -
Chapelton of Elsick
.
First phase works also include a neighbourhood centre and High Street, primary school with all facilities accessible by foot or bike.
Industrial and commercial development will also take place on the land, which is situated 10 miles south of Aberdeen on 2,000 acres of land adjacent to Newtonhill.
Masterplanned by Andres Duany, will ultimately see creation of some 9,000 homes in seven distinct neighbourhoods at a projected cost of £1bn.
Lord Southesk, director of EDC, said: "Chapelton offers an opportunity to create a new style of living that will undoubtedly provide homebuyers with a vibrant community in the north east of Scotland. From an extensive range of homes and schools through to a well-planned town centre and green space, this is a chance to deliver a new sustainable community on a highly significant scale."
Architects who have contributed to the Charrette and post-Charrette work include local and national firms, such as Covell Matthews, Benjamin Tindall Architects, Brooks/Murray Architects, Lew Oliver and Marianne Cusato.
Should Aberdeenshire Council approve the plans work could start on phase one works as early as 2012.
Back to September 2011