Dedicated website to document Kelpies construction
September 7 2011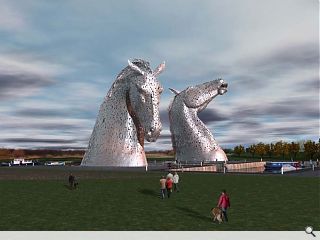 A website
dedicated to documenting the construction of twin 30m high horses heads
in Falkirk has been launched by their sculptor, Andy Scott.
Set to rise within parkland by the Forth & Clyde canal as the set piece for the Helix project, the Kelpies will constitute the largest piece of public artwork in Scotland and will rank as one of the largest equine sculptures in the world.
Budgeted at £49m (the Kelpies will cost £7m to construct) the scheme will also entail planting of 750,000 trees and laying of 34km of paths and cycle tracks.
They had originally been intended to act as boat lifts but will now be used solely as a viewing platform.
Atkins have been tasked with engineering the piece, consisting of a complex mosaic of stainless steel plates, by carrying out detailed modelling based on Scott's original maquettes.
Back to September 2011