Bannockburn Visitor Centre approved
September 7 2011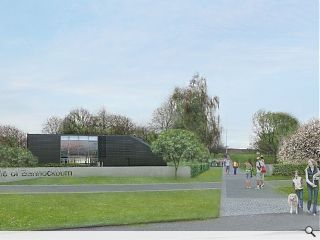 Stirling Council have approved plans for a new
visitor centre
designed to commemorate the 700th anniversary of the Battle of Bannockburn in 2014.
Designed by Reiach & Hall in partnership with Historic Scotland and the National Trust for Scotland the centre aims to enhance the presentation of the battle via cutting edge display technology.
Cllr Steven Paterson, Portfolio Holder, Empowerment and Citizenship, Stirling Council, said: "The centre's bold and imaginative design, combining the robust exterior of textured grey brick and shiny 'chainmail'-style black-tiled roof with a bright, welcoming interior flooded with light, will help tell the story of Stirling's and Scotland's heritage.
" It will truly bring the history of the Battle of Bannockburn to life for local people and visitors to Stirling from across the world."
Ian White Associates are acting as landscape architects for the project with Sinclair Knight Merz conducting engineering work.
Back to September 2011