Aberdeen Energy Development Centre progresses
September 7 2011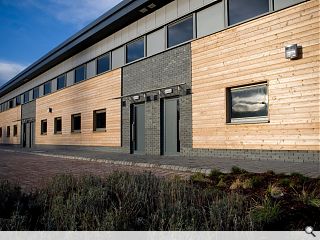 Phase 2 works on the Aberdeen based Energy Development Centre, a facility intended to encourage research and development into energy efficient buildings in the north east, are being progressed.
Designed by BMJ Architects the £5m first phase of the centre comprises a mixture of lab and office space within a low energy BREEAM accredited pavilion.
It will now be augmented by an additional 22,600sq/ft of space after securing funding from Energetica, an initiative intended to create a global technology, lifestyle and leisure corridor stretching from the city's Bridge of Don to Peterhead.
External cladding on the build comprises highly insulated, sustainably sourced, Scottish larch and brick whilst an on-site wind turbine supplies some of the centre's power.
Natural ventilation and lighting together with a durable palette of materials have been specified internally – including recycled aggregate, a bike store and low water consumption fittings.
Donald Coutts of BMJ Aberdeen, said: "It is often claimed that architects focus on the design aspect of a building before looking at energy efficiency but for the EDC we had to consider all the sustainable elements at the initial stages and work the design around these.
"This is the way forward for our industry to ensure that we are creating sustainable energy efficient buildings which will last for generations of the future."
Planning approval has been granted for phase 2 but construction will not commence until 2012 at the earliest.
Back to September 2011